BAR – SNACKBAR
DICOVER A 5 STAR CAMPSITE IN VENDÉE, WITH A SUPERB BAR – SNACKBAR AREA!
Can you already see yourselves there ? –enjoying a quiet holiday break on a beautiful campsite and in an idyllic setting ?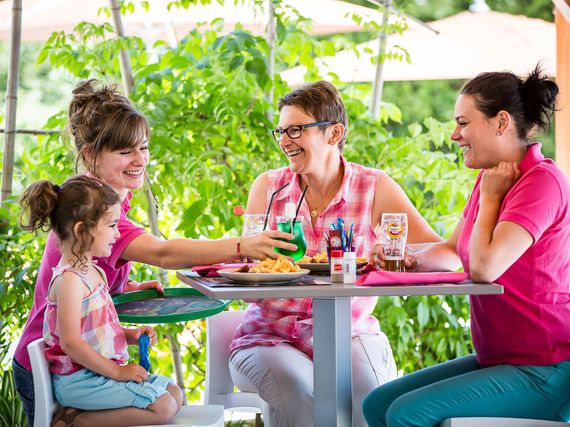 After an activity, while enjoying the pool complex, to relax even more than you already have, or simply to enjoy at any hour of the day… the Pin Parasol bar/snackbar area is unique. A spacious, modern indoor and outdoor facility welcomes you to enjoy our cocktails, ice creams, paninis, hamburgers and other recipes. Outside, on a huge fully furnished terrace, you will be able to enjoy our unique environment.
A great place to relax with nature for as far as the eye can see and our extensive pool complex right in front of you.
It has been our intention to provide a friendly, open and practical place for your comfort, where comprehensive menus of drinks and snacks and warm service are waiting for you.
Whether for take-aways or eating in-situ, our bar/snackbar area has been designed for all : take a moment to order a home-made ice cream, a crepe or even a sandwich to take away or enjoy in a quiet moment on our great terrace.
Meeting-up, enjoyment and friendliness are there for you at the Pin Parasol bar/snackbar.